I've been going a million miles a minute for nearly a week, now. Here's a quick recap of how I've been passing (or losing) my time. And since it's Wednesday (hopefully it's still Wednesday when I get this post up!) I'm linking up my recap with Laura over at Life With Lolo, for #HASHTAGHUMPDAY!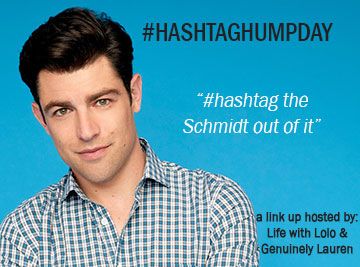 Once again, I'm hard at work editing the latest episode of Bourbon & Bordeaux. I love (learning) the editing process, but I've found that it has a tendency to suck entire days out of my life. Once I get into a groove, it's hard to stop. I can go multiple days without doing any of my regular routine, I rely on chips (and other finger-foods) as meals so that I can eat while still using the computer, I skip blog posts… The end product is worth it, but there's a level of guilt about everything else I don't get done.  #timesuckingvortex #getreadyforthenextepisode #labouroflove #Idontregretwearingpajamasallday
If you saw my
Instagram photo with Big Nasty
, you know that I spent my Sunday watching football at a charity event benefitting 
All Children's Hospital
. We got to hang out at One Buc Place (the Buccaneers' training facility), eat delicious foods (Ruth's Chris Steakhouse, Tijuana Flats, Smokey Bones, Del Frisco's Grille), a TON of money was raised for Johns Hopkins All Children's Hospital and the Bucs bested the Saints 26-19. #WheresyourNasty #ignoretheBucsawfulsloganthisyear #goodfoodmakesfootballfun #doingitforthekids
Late last week I offered to help out a friend by recording the raising of a sign. A company in Tampa was placing two large (approximately 40′ long) signs onto the north and south-facing facades of a corporate building. The first of the signs was supposed to be placed onto the top of the 10-story building at 11:00am. I had the camera in position by 10:30am. The crane that was to lift the sign malfunctioned before the supporting frame ever got off the truck. A technician was called out. The frame was halfway up the building when the crane malfunctioned for the second time. The technician was called again. The frame was put into position and one side was affixed to the building.
Then the sign company realized that they didn't have the proper bolts. And, due to the recessed edge, were going to have to figure out another way to do things. No matter… because the crane malfunctioned. Again. The technician was called. The sign company actually told me to leave, that this could take "all day."
Four hours of sitting in the middle of a field in the center of a corporate plaza and nothing to show for it. For the record: the sign did NOT get up that day. The second sign, scheduled to go up the following day, also didn't quite make it up. #sixdaysstillnosign #noIdidnthaveanythingelsetodothatday #leftarmonlysunburn #weirdointhefield
Last night Tall Guy and I got a chance to catch the touring production of 
Once
, the musical, at the
Straz Center
. The show is great – it's Guy meets Girl, Guy and Girl make beautiful music together, complicated feelings of love ensue. It's romantic, witty and the touring cast is great. The actors are the musicians and the amount of talent in each member of the cast is insane. If you have the opportunity, you want to see this show. #doubledatesaredoublegreat #wemayhavetoldmyhusbanditwasaboutfairytales #helikeditanyway #beautifulmusicsometimesmakesmecry
So there have been some awesome events lately, and some major time sucks. There was also a significant disappointment. I'm currently involved in replacing a mattress through warranty. The current king-sized mattress has massive person-shaped pits on either side. You know, approximately where persons sleep. Luckily, Simmons agreed that the current mattress is a mess and has agreed to replace it. The new king mattress was scheduled to arrive on Saturday between 11 and 1pm. I received a phone call at 9:20 saying that the delivery truck was approximately 25 minutes away. Cue mad dash to make myself presentable, remove all bedsheets, remove mattress from bed and drag out of bedroom, vacuum under bed frame and open the door to delivery man who arrived less than 25 minutes after the phone call.
The delivery man who was standing next to a queen size mattress.
#noIdon'twantthequeeninstead #ruinedmyafternoonnapplans #anothertwotothreeweeks #soreneckeveryday
Speaking of losing time, it's now officially Thursday. Which means Project Runway AND How to get away with Murder. Here's hoping I can peel myself away from the computer by then!