January has been strange for me. It feels like it's flown by, but it also feels like January 1st was so much longer than four weeks ago. Very confusing. I'll be mulling about this tonight when I should be sleeping, I'm certain. In the meantime, I'm hanging out with Life with Lolo and Genuinely Lauren for #HASHTAGHUMPDAY and Alanna & Company and Plucky in Love for Humpday Confessions. Let's do this!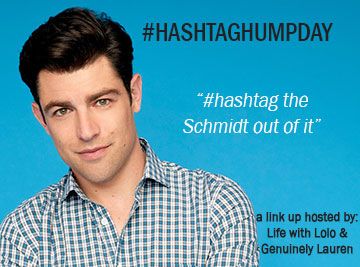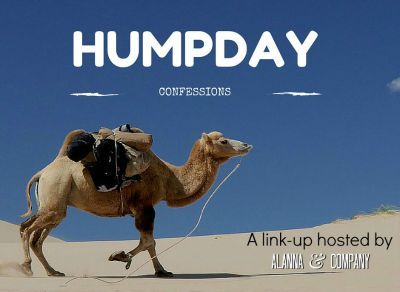 I confess that I'm feeling rather proud of myself in regards to this blog. My stats have improved dramatically this month and I'm loving it. Things I've created, and moves I'm making, are getting responses and it feels darn good. While there's nothing wrong with being proud of the work one has done, it does seem silly when I compare to the stats and involvement that I see in some of the blogs I love and admire. Also, I feel like being too proud will end up jinxing it and kick me in the butt. (I'm not sure at exactly what level the healthy pride turns into deadly sin pride, but I don't need that kind of bad karma).
#pattingmyselfontheback #littleblogsuccesses #babysteps
On Monday I mentioned some upcoming flights to Mexico and Europe. The trip to Europe is going to be a lengthy one and will involve two countries. I'm extremely excited for a multitude of reasons, not the least of which is catching up with my friend Fin* (the instigating factor in heading overseas) and meeting her baby girl. But I confess my enthusiasm somehow hasn't quite pushed me into full-on planning mode. It's like I expect the trip to fall into place without me actually researching, scheduling or coordinating.
#thereshouldbeanappforthat #Finandchips #Franceishappening #bikinipicturesinMexicothistime
This afternoon I had the opportunity to be an extra in a commercial. I arrived at the studio and was shocked at the size of the space and amount of camera and lighting equipment. Still, my expectations were low, guessing the extras would be shuttled in, filmed and shuttled out with minimal fanfare. But instead of working as a group, each extra was filmed individually. I hadn't expected that kind of attention.
Since I'd be posing as a surgeon (actually, as at least two surgeons) I'd asked a friend to lend me some scrubs. But instead the crew picked my wardrobe from a rolling rack filled with scrubs, jackets and medical gear. After changing I was stopped by a woman who put makeup on me (mostly a large amount of powder) and then helped me re-do my hair.
From a distance, it appeared that there was a large piece of material draping down the back wall and onto the floor, making the green screen. Walking onto it, I discovered that the floor had been painted green. (They repaint the floor every time?!?) By the time the director started talking me through what I'd be doing, I was losing my ability to take everything in. I'd tried to play it cool, but I kind-of geeked out. It was awesome. Hopefully I'll make it (and be recognizable) in the final cut!
#twosurgeonsmeansImDrDrakeRamoray #myfifteenminutesoffame #mysixtypercentsmileisbetterthanmytwentypercentsmile
And now I confess that I am done. Partly because it's after midnight and partly because I can't remember any of the other confessions that I intended to confess. I remember having quite the list when I sat down, but now… I got nothin.
#braindead #thebrightlightsmademetired #maybeitwasthelawandordermarathonthisevening
Happy Humpday, everyone!
*Names always changed to protect the awesome