Happy Hump Day, e'rybody! I've taken too many weeks away from my favorite link-up, #HASHTAGHUMPDAY. Let's do this Schmidt! Join me and link up with Laura over at Life With Lolo, for #HASHTAGHUMPDAY!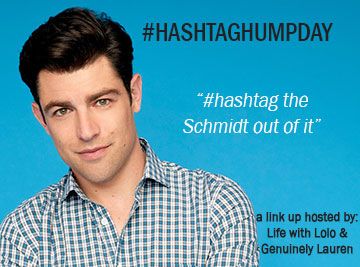 Today is Day Two of C25K. After the mp3 fail, but considering the massive muscle pain Day One left me in, I imagined Day Two would be more difficult, physically, but at least I'd know exactly where in the program I had to give up. That was optimistic. The iPod was fully functioning, but I'd transferred the podcast from Day One's broken cheap mp3 player. Result? Instead of the podcast skipping after prompting the fourth interval run, it just stopped. Apparently, the full podcast didn't transfer over to the iPod. Today, instead of restarting the podcast, I switched to a 130bpm mix from Steady 130 and guessed on the rest of the intervals. In good news, I did eight intervals of running, which is correct! In not-so-good news, I do know the last interval was definitely not the full 60 seconds, and the lengths of intervals 5, 6 and 7 can't be confirmed. #sittingdownhurts #everythinghurts #technologyfail #storyofmylife
My replies to comments 
still
don't seem to be working
, which is super-frustrating. I'm tempted to use Disqus, but am afraid that – for a non-Disqus reader – the initial sign-up process will be too annoying/involved. Either way, I'm afraid that I've already lost people to the glitch. #Idontdowellwithchange #WordPresspluginfail #peoplethinkIdontcare
Over the last week I've had two dreams that I was working as a bridal consultant, again. The dreams themselves were unremarkable, just the general act of working at the boutique and helping brides find the dress of their dreams. The most notable thing was that when I woke from the dreams, I was very sad. I miss it so much! Yesterday I discovered the stack of bridal magazines from my own wedding. I flipped through them, wishing I could do it all over again. Combine the dreams, the magazines and the fact that Spring 2016 bridal gowns recently walked the runway? One melancholy me. #Iloveweddings #Ilovebridalgowns #Iwantanotherwedding #onceisntenough
The pool is officially open! It actually opened last week, but now that the first game of Pool Basketball has been played, it's officially official. #poolmakesmehappy #watermakesmehappy #waterbaby #Idratherbeswimming #thisiswhyFlorida
Coincidentally, once the pool was open, I also received my first sunburn of the summer. It was a non-swimming sunburn, though. It was a crepe-myrtle-removing-orange-tree-planting sunburn. Awesome tank-top lines. #everyyear #itdoesntmatterhowmuchsunscreenIwear #wifebeaterburn
Hope everyone else is enjoying the week – sans burns and muscle fatigue!