Happy Hump Day, e'rybody! The weather here is absolutely gorgeous today. Sunny, 79 degrees and a nice breeze. If you need me, I'll be outside somewhere. Anywhere. Before I go, I'm linking up with Laura over at Life With Lolo, for #HASHTAGHUMPDAY!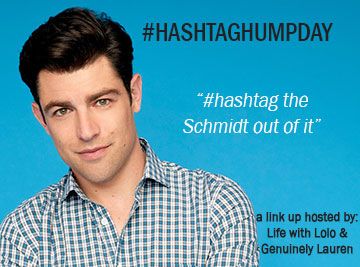 Prior to my parents visit last week I did quite a bit of cleaning. Some of the cleaning/tidying required organization, which required getting rid of some items. It used to be very difficult for me to get rid of anything (#hoarder), but that's improving. During this past clean-up I removed two full sets of wine glasses (white and red) and donated them #donatingthingsmakesmehappy. Don't worry, I still have a full red set, and a full white set. And margarita glasses. And rocks glasses. And shot glasses. And sake cups. And pilsner glasses. And blonde beer glasses. And champagne glasses. And those are just what we use for alcoholic beverages. #toomanydrinkingglasses #butImthirsty #fourcupboardsfull
The weather around here really started warming up on Monday. So Monday, March 2, was my first day #layingout #nexttothepool for 2015. Hooray!
Unfortunately, despite all my good intentions of
PiYo
and eating healthfully, I totally #felloffthewagon. Oddly enough, right around February 14th.  So despite the joy of being back in the sunshine, my body doesn't quite look like I'd hoped it would for #bikiniseason. #cakecaloriesshouldntcount #winecaloriesshouldntcount #Imstillhungry
I sold a dress on Poshmark! Which is funny because I listed the dress in January of 2014. Yes, over a year ago. Does anyone use Poshmark – either for buying or selling? Have you had good luck with it? #stilllotsleftfromJanuary2014 (If you have any interest, I'm on #Poshmark as
@cjmcsassafrass
) #ifIsellmoreIcanbuymore
MARCH MADNESS, YOU GUYS!!! We are only 11 days away from the 2015 NCAA March Madness Bracket spot decisions! #marchmadness #itsallaboutthebracketsbaby #legalgambling #playingforglorynotmoney
Happy #HASHTAGHUMPDAY, all! #peaceout #seeyouinthesunshine