So, July. Also, Wednesday. While my brain is working a day in advance (today feels like Thursday, yesterday felt like Wednesday, Monday felt like Tuesday), it's at least two months behind. Where did May go? The good news about today not being Thursday, is that I can finally link up with #HASHTAGHUMPDAY, again! It's my favorite link-up (true story) and I just haven't been giving it the attention it deserves. Feel the love! Join me and link up with Laura over at Life With Lolo, for #HASHTAGHUMPDAY!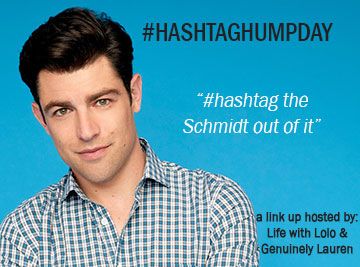 Earlier this week, Tall Guy suggested we start setting monthly goals. Last night we sat down and created a list of our July 2015 goals. We ended up with five categories. FIVE CATEGORIES! I sort of felt like maybe we should start smaller – like, for July we make the goal of coming up with three good goals for August. #slowbutsteadywinstherace #Iwasntreadyforthis #procrastinatoratheart #butgoalsettingishard
One of our "Home" goals is to tackle the back deck. As in, replacing the deck that we
removed
. #dirtcouldbeayard #whoneedsstepsdownfromthedoorway #justcallitminimalism
A "Personal" goal of mine is to complete Week 5 of C25K. Oh, yeah, I'm still way behind. This is absolutely another situation where #slowbutsteadywinstherace. My current running schedule is Monday, Wednesday, Friday. Today is Wednesday. Before 9:00 a.m. this morning, the temperature outside was 81° with a "feels like" temperature of 101°. #toohottorun #passingoutisalegitimatepossibility
Speaking of goals – Tall Guy and I both started
working out
and eating more healthfully in an effort to shed some excess weight. That was nine weeks ago. Tall Guy has lost 20 lbs. I have lost 4. #thatsnotfair #kindofmakesmewanttopunchhim #itsstilltoohottorun #okaytechnicallywetookaweekoffto
eatAsheville
Joking aside, I found the goal-setting process to be a little inspiring, but also intimidating. I don't do well with failure. If, for some reason, we aren't able to see through the majority of our goals, what happens then? #doyoujustrestarttheclock #doesntthatdefeatthepurposeoftimedgoals #thisisalotofpressure
Hope your hump-day is hashtagtastic!