Derby is over, Cinco de Mayo is over, now what?
#HASHTAGHUMPDAY.
Join me and link up with Laura over at Life With Lolo, for #HASHTAGHUMPDAY!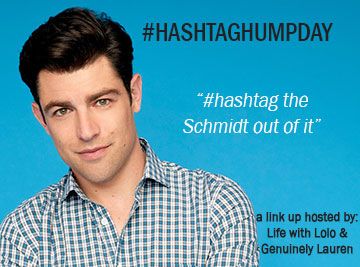 This is my second week of using the C25K running program. Despite this being my second week of using the program, I'm still using the routine from week one. At no time during my first week did I actually complete the Week One regimen. Yes, I'm impressed, too. The good news is that this week I have been able to complete all the Week One interval runs. The bad news is that it's still tragically difficult. #whendoesitgeteasier #thisbodywasntmadetorun #amIskinnyyet
Cinco de Mayo, one of my favorite excuses to drink a margarita and eat excessive amounts of chips, salsa and guacamole was a bust. I had no margaritas, no chips, no salsa and no guacamole. It was both depressing and shameful. Stupid diet stopping me from eating chips and drinking margaritas. #everythingtastesbetterthanexercisefeels #CincodeMayofail #Imisschips
Our dog has started suffering from massive separation anxiety. The poor little guy is convinced that if we leave, we'll never come back. He's got the shivers, barks at nothing, whines when I close him out of the bathroom, and now insists on having at least some part of his body touching mine whenever I stop moving. #Ihaveadogshapedshadow #OhHammy #Ialwayscomeback
For several weeks, I'd been missing a pair of black shorts. Last Thursday I decided to tear apart my dresser looking for them. The drawer with shorts is now about five hundred times neater, and I managed to weed out some items, but no black shorts. I then tore apart our laundry room and went through my dirty laundry. Twice. No shorts. Checked Tall Guy's dresser drawers. No shorts. I advised Tall Guy that I was missing the shorts, and he assured me he would double-check his closet. On Friday I did several loads of laundry, and put everything away. On Friday night I reached into my pajama/sock drawer. Right on top of everything, folded and laid out diagonally, was the pair of black shorts. Tall Guy denies having found them, or put them there. I believe him. #Ihaveashortself #maybeitsahouseelflikeDobby #ghostsaremovingmyclothes
Our garbage was finally picked up on Monday! Despite having gotten the
glitch straightened out
, there was still this sneaking suspicion that our garbage was going to gain another week of stink. With weather in the eighties almost every day, sitting garbage quickly gathers aromatic weapon status. #firstworldproblems #stinky #crowsweregathering
Hope your hump-day is hashtagtastic!