Happy Hump Day, e'rybody! I've managed to finally knock the headache that appeared yesterday, but the remedy has caused a stomach-ache. Take into account my water-wounds, and some seasonal allergies and I'm a mess. But mostly internally. It doesn't elicit a lot of sympathy (I'm looking at my husband). Anywho, my favorite thing on a Wednesday doesn't require me to be feeling like running a marathon (and nothing EVER will).  It's Wednesday! Time to link up with Laura over at Life With Lolo, for #HASHTAGHUMPDAY!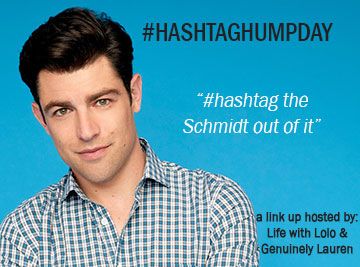 Someone on Facebook tagged me for the HeartThis app. It's essentially a catalog of multiple stores – whichever stores you choose – like Macy's, Nordstrom, Anthropology, ModCloth, etc. It shows you a feed of single images, all mixed together and you can "heart" your favorites. Cheesy and not exactly the most innovative of ideas, but I spent a really long time scrolling through it.
Conclusion Number One: I have an excessive attraction to shirts that say things. Despite the fact that I know I am too old for them, I still want them. Apparently I'm operating under the delusion that I still look 21, act like I am, and expect people to treat me as that age despite the obvious fact that I am NOT, in fact, 21. #idontknowmyage #icouldpassfortwentyoneunderwater
Conclusion Number Two: There are far too many stores selling things where my first reaction, literally,  is "That's something Miley Cyrus would wear." #mileycyrusisnotarolemodel #mileycyrusdoesntknowfashion #whenshesactuallywearingclothes
Conclusion Number 3: If I had unlimited funds, my personal style would be so much more defined. Not only would it (obviously) allow me to buy insane amounts of clothing, but I'd be able to purchase items that are outside my current standard. I would look amazing. I would become that uber-amazing, everyone-knows-her, impeccably-dressed Style Blogger. #starpotential #fashionplateinmymind #ifonlyIhadatrustfund
Conclusion Number 4: I do not have those funds. My style is destined to remain stagnant. #wanhwanh #jeansandatanktopforlife #girlnextdoorforlife
Conclusion Number 5: I have too many useless apps on my phone. #smartphonetakingovermybrain #someofthesehavetogo
And, on that totally uplifting note, happy #HASHTAGHUMPDAY, all!