We're six days into 2016 and it's still got that "new year smell." It still feels like a clean slate, a blank canvas, a chance to start all over again! I'm hanging on to the optimism, and hanging out with Life with Lolo and Genuinely Lauren for #HASHTAGHUMPDAY and Alanna & Company and Plucky in Love for Humpday Confessions. Let's do this!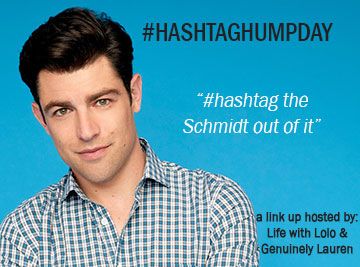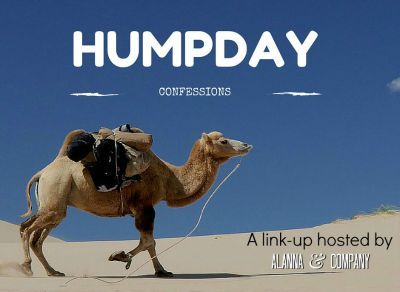 It's a new year and my heart is full. And so is the gym. I am, by no means, a gym rat. In fact, I do not like going to the gym. However, it's a habit that Tall Guy and I have been cultivating since late November. And as much as I support people getting back into it, and doing something they want, the abnormally large numbers of people are making me crabby. There's the selfish part, that I don't want to wait for someone else to finish using the baby weights that I need. But there's also anxiety. Aside from loathing exercise, my biggest problem with the gym is that people might watch me. And judge me. More people in the gym = more people potentially watching me. And judging me. I do not like it, Sam I am.
#gymanxiety #antisocialtendencies #theyreallgonnalaughatyou
Despite the major pat on the back that I gave myself on Monday, I must confess, it may have been a little premature. While I did not lie, because I did take down our 2015 Christmas Tree and get it out to the curb on the appropriate date, that particular tree was the only item of Christmas decor that came down. The mantle is still fully Christmasfied, and there are tchotchkes throughout the living and dining rooms. And that other Christmas Tree that we bought on January 1st. That one is still up, too…
#extendedChristmas #spreadthejoy #babysteps #aheadofthegameforChristmas2016
Why would anyone get, and put up, a Christmas Tree on January 1st? Because one purchased a fake tree that was used as the store's display (at a MASSIVE discount), and the store no longer had the box it came in. Until we purchase appropriately sized storage tubs, the tree will be standing in our dining room.
#savedoverahundredandfiftydollars #iftherearentdecorationsmaybeitsnotreallyaChristmastree #suckerforasale
Here's the thing. I've never wanted a fake Christmas Tree. I'm Team Real Tree all day. Tall Guy wanted to avoid the needles and thought we'd save money in the long run if we went fake. I only conceded to a full-size fake tree because he agreed I could still get a small real tree. Which means we'll still have pine needles floating around the house and we'll still be spending money. Somehow I feel like we lost our way…
#waitaminute #stillasuckerforasale #compromise #winwinsituation #spendspendsituation
But I think the biggest confession at all is that I'm not bothered. It's okay with me that there are stockings on our mantle. Seeing my grandmother's porcelain mini-tree on top of the piano makes me happy. The seasonal candle still smells wonderful. I feel no pressure to get these things and no guilt for not having done it. I've got big things planned for 2016 and worrying about the timeliness of my decoration departure isn't one of them.
#letitslide #hakunamatata #notgonnaworryaboutit #somuchBachelortorecap
On the other hand, it's probably time to stop talking Christmas on the blog…
Happy Humpday, everyone!